EDUCATION PROGRAMS
We bridge the gap between what students need and what schools can deliver, offering a variety of arts integration programs for all ages and grade levels. We utilize basic of theatrical techniques to teach any curricula. Our team of professional teaching artists draw on their combined decades of experience to create and customize OUT-of-SCHOOL programs, DISTANCE LEARNING / VIRTUAL opportunities, and IN-SCHOOL programs and performances (including our Emmy award-winning PICTURE THIS® performances).
The SAPPHIRE will support your learning goals with: 
TOP-SHELF TEACHERS: Our team of professional and vetted teaching artists and actors have years of experience in education and on-stage. (All teaching artists are background checked, with copies and references provided upon request.)
RESEARCH + STANDARDS: Research- and evidence-based techniques are used and cited, and all in accordance with to state and federal education standards.
DYNAMIC, DIVERSE ENGAGEMENT: All programs engage the body, mind, and voice to stimulate active listening and learning. And, our programs appeal to diverse learners who benefit from engaging in theatre because it creates this mind, body and voice connection.
EDUCATION + ENTERTAINMENT: More than just fun and informative, SAPPHIRE's programs address subjects as diverse as biology, social studies, reading comprehension/literacy and ecology.
CUSTOM CREATIONS: All programs are tailored to fit your needs, schedule and parameters. Don't see your particular topic…? We can work with you to create a customized learning experience to fit your specific needs.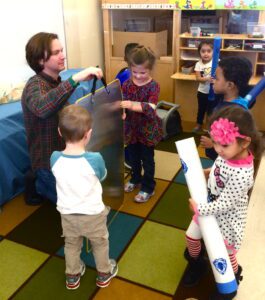 DISTANCE LEARNING, VIRTUAL + VIDEO   Almost all of our programs are available via online Distance Learning / Virtual opportunities for students, parents and educators. We are also able to create custom virtual programming to meet your needs and school standards. EDUCATIONAL VIDEOS available on The Sapphire's YouTube Channel.
CREATING COURAGE [Performance; Grade PreK; Up to 30 students.] This intimate, interactive performance will show students that even when they are afraid, there are ways that they can find courage. The actor faces their own fear of storms, using simple Shakespearean text and the power of language. Students will participate from their seats to create storm sounds.
DRAMA CLUB!  [In-School Residency; Grades 3-12; Up to 30 students.] Students will learn the basics of improvisation for the theatre, working together as an ensemble, creating characters and using the actor tools of body, mind and voice. Our DRAMA CLUB is designed to make playing theatre games fun and educational, with a focus on theatre process instead of on a final performance or product, and an emphasis on experiential learning over performing, building confidence and communication skills.
PLAY GAMES [Workshop; Grades 1-12; Up to 30 students.] This energetic workshop is filled with meaningful theatre games for youth and educators. Sessions available for participants in elementary, middle and high school.  Every game is an ensemble-based experiential that teaches valuable, age-specific lessons such as confidence, teamwork, mental focus and physical awareness.  (But don't worry — it's so much fun, they won't know their learning!) PLAY GAMES is perfect for school and youth groups, summer camps and out-of-school programs.
READER'S THEATRE [In-School Residency; Grades 3-8; Up to 30 students.] This program is a fully customizable, arts integration residency. In five consecutive 50-minute sessions, a professional teaching artist will teach theatrical techniques while creating a Readers Theatre script approximately 5 minutes in length, suitable for a final presentation. Readers Theatre utilizes the three actor tools of body, mind, and voice to teach any curriculum from science and math to writing or literature. Social issues are also available for our Readers Theatre program including anti-bullying, communication skills, conflict resolution, body autonomy and safety, and violence prevention. The cost of this program includes a teacher's planning meeting and a custom script. LOOK for more info about READERS THEATRE on www.IndyArtsEd.org!
PICTURE THIS® for Youth Audiences [Performance; Grade 3-12; Up to 300 students.] The SAPPHIRE'S shows for schools feature PICTURE THIS® – our Emmy-award winning process that takes a variety of learning topics and presents them using interactive theatre. Professional improvisation actors portray real-life scenes customized for an audience, and facilitators guide a two-way conversation between the audience and the characters, exploring the issues and navigating difficult conversations. The PICTURE THIS process allows students to directly engage with challenging subjects in a safe, low-risk environment.
      KEY TOPICS for Youth Audiences:
CONFLICT RESOLUTION: By fostering healthy dialogue about differences in race, ethnicity, gender, ages, religions, sexual orientation, backgrounds, personalities and more, we help move audiences along from tolerance to acceptance and towards truly valuing diversity.
DIVERSITY, EQUITY & INCLUSION:  By fostering healthy dialogue about differences in race, ethnicity, gender, ages, religions, sexual orientation, political views, backgrounds, personalities and more, we help move audiences along from tolerance to acceptance and towards truly valuing diversity.
SEX, SEXUALITY, GENDER & HEALTHY RELATIONSHIPS:  Gender and sexuality are complex and complicated matters. And today's youth are flooded with masses of misinformation, misconceptions, and overly-mature subject matter. People identifying as lesbian, gay, bisexual, transgender, queer, or intersex (LGBTQI+) regularly face discrimination, bullying and violence, often leading to higher incidents of mental health issues and suicide. Our program provides a safe, encouraging space for necessary dialogue, where all are supported to be themselves and learn where to seek further help.
STORYTIME with DAN the BOOK MAN is a series of individual "edu-taining" videos for students, teachers and parents that feature beloved local actor and Sapphire teaching artist, Daniel A. Martin. In this series, Daniel shares books that deal with the problems children face such as bullying, report cards, and friendship challenges. Individuals and classes are invited to email Daniel the issues on their minds, and he helps them through the power of reading with books that examine those issues. TheSTORYTIME series is primarily for grade school students, can be enjoyed at home or in virtual classrooms, and shines the spotlight books written and illustrated by women and people of color. Have a topic in mind? Email [email protected].